The $6 million man-made reef
________________________________________________________________
CDNN
October 14, 2007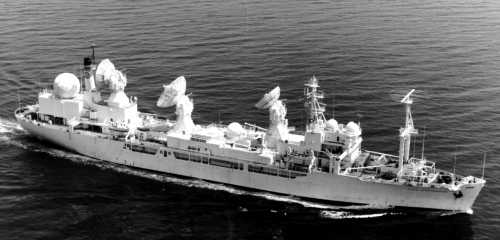 NORFOLK, Virginia --
A decommissioned Air Force ship is being prepared at a Virginia shipyard to become a new habitat for marine life and an attraction for recreational divers in the Florida Keys National Marine Sanctuary.
A $6 million project to turn the 524-foot-long General Hoyt S. Vandenberg into a reef is scheduled to culminate in the spring of 2008, with the vessel's sinking in 140 feet of water about six miles south of Key West.
Retired in 1983, the Vandenberg floated for 24 years among ships in the U.S. Maritime Administration's James River Naval Reserve Fleet at Fort Eustis, Va.
The ship tracked spaceflights off Florida and served as a Russian science ship in Virus, a 1999 release starring Jamie Lee Curtis, William Baldwin and Donald Sutherland.
Project officials say the Vandenberg reef should generate $8 million annually in tourism-related sales after it is sunk and point out environmental benefits, especially alleviating recreational diving pressure on natural coral reefs.
Prior to sinking, workers must rid the vessel of all environmental hazards. That means removing paint, stripping out almost 800,000 feet of wiring loaded with toxic products used in insulation before being banned, and off-loading any remaining waste petroleum products.
More than 50,000 man-hours of work will be necessary, but the end result will be a shipwreck that should appeal to divers of all skill levels, project officials said.
''We came up with the Vandenberg from a list of about 400 ships because the Vandenberg seems to offer a little bit to everybody,'' said Joe Weatherby of Reefmakers, the company coordinating the project. ``There's going to be 10 or 11 places along the entire length of the ship that will come up to within about 40 feet of the surface. That's a lot more area for a rookie [diver] to explore.''
Most of the funding for the project is coming from Florida Keys government sources, including the region's tourism council. The Maritime Administration is contributing $1.25 million to the effort.
The addition of the Vandenberg is to anchor the lower end of a dive experience that area dive shop owners are calling the Florida Keys Wreck Trek. At the top, off Key Largo, is the former U.S. Navy Landing Ship Dock Spiegel Grove, another ship that was ''mothballed'' at James River.
The Vandenberg began its nautical life in 1943 under a different name, the Gen. Harry S. Taylor, as a troop transport ship.
After participating in World War II, the Hungarian Revolution and the Cold War, it was overhauled to become a missile-tracking vessel in the Atlantic. When it got that assignment, it became the Vandenberg.
____
www.artificial-reefs.blogspot.com